Last Friday 1 November  EC students went to the Bay Harbour Market in Hout Bay. Hout Bay is a coastal suburb of Cape Town, with a mix of neighborhoods from the very rich to the very poor. The place is called Hout Bay(Woodbay) because the Dutch were establishing a colony in Table Bay and ran out of wood. So they went to Constania Nek to get the wood and that's why the bay is called Hout Bay.
We first went to the beach of Houtbay to enjoy the amazing view and smell the seawater. Because the bus arrived a bit early there was enough time to take some pictures, walk around at the beach and have some ice-cream. Then it was time to go to the highlight of the day, Bay Harbour Market. Bay Harbour Market is a market where they sell all types of nice souvenirs, clothes, jewelry and art. When you done shopping, you can get really nice food like bobotie, steak/hamburgers, schwarma, noodles, sushi, sandwiches, crepes, brownies, ice-cream etc. They also serve special drinks like German beer and smoothies. After two hours at the market and a full stomach it was time to go back to Cape Town.
The road from Houtbay to Cape Town is very nice, it's curvy road through the mountains along the coast. On our way back the sun was setting causing a beautiful view so we did a quick stop to take some final pictures. Than it was time to really head home, it was a very nice afternoon and good way to start the weekend!
– Marvin, Intern and Activity Leader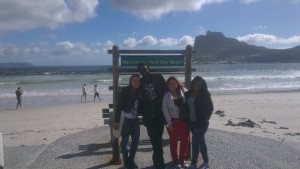 Comments
comments