What happens to our students once they've left our doors for the last time and fly off into the horizon? Many of our students have gone on to do some pretty interesting things with their lives, and studying English as well as the overall experience of living in a foreign country, has a great deal to do with their success.
"Watcha Up To?" showcases past students and have them share with us what they're doing at the moment.
Today we welcome back Fabio from Brazil whose story proves that we have no idea what the near future may hold for us. Like many of us, he had plans to do one thing, but upon his return from South Africa, other opportunities presented itself. Let's see what he's up to these days…
~Sheetal Makhan / AYC
Watcha Up To?
My name is Fabio Pacheco, from Ribeirão Pires, Brazil. This year I spent a month studying at EC Cape Town, preparing myself for the IELTS exam. I arrived in Upper Intermediate and I left in Advanced level.
I must say this was a wonderful experience! EC Cape Town is an amazing school and it has a great vibe and smiling and happy people! The school facilities are also good and well located!
The teachers I had were far beyond expectations, always ready to help and very competent in their activities.
The main reason that I studied English and to seek international certification was being able to study abroad in the future, but immediately after my return from South Africa I had a job opportunity! Before traveling I was a technology specialist in the company where I worked. After my study trip, noting improvement in my language skills, I was promoted to Strategic Alliances Manager and I use English every day!
In terms of life experience, the main benefit of my trip was meeting so many different people and so many different cultures, being in touch with people from Japan, the Middle East, France, Switzerland, Italy, Angola etc. My best memories are the Cape of Good Hope and the wild ostriches and baboons, and of course the amazing view of the city from atop the majestic Table Mountain!
For me this was an amazing experience and my advice to anyone that wants to travel and study is that you make sure of making a good choice, because there are few places as beautiful as Cape Town and few schools as good as EC. I hope someday I can go back and live again this unforgettable adventure.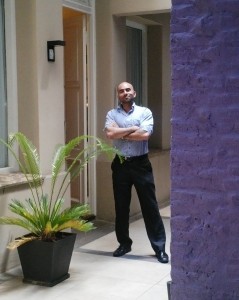 Please visit the link for more information about learning English in South Africa.
Comments
comments