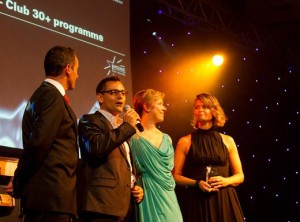 We did it again! For the second year in a row EC has taken home a top award at the annual LTM Star Awards. Retaining our crown in the Innovation Category, we were also shortlisted in the Junior Course for under 18s and Chain School categories. Since the inaugural Star Awards 5 years ago, EC has been nominated for the Star Chain School and Star Innovation awards three times – a considerable achievement considering the amount of other language schools competing for this exclusive award.
EC Malta's Club 30+ programme won the 2010 LTM Star Innovation of the Year Award. This award rewards the school that has introduced the best new product or service which most appeals to students and agents. This is the second year in a row that EC has scooped this prestigious award. In 2009 EC was recognised in this category for its highly successful Freestyle programme.
The LTM Star Awards are unique peer-voted awards in the international education industry, where agent partners vote for their favourite language schools and vice-versa. The winners are announced at a high-profile London award ceremony. The awards acknowledge the important mutual links between those organisations offering language tuition to international students and those sending students overseas for an international study experience.
The award winning Club 30+ programme offers a unique learning experience for the over 30's in Malta. In dedicated classes students focus on topics relevant to their needs and school facilities are tailored to their requirements.
The culture that allows innovation to flourish is largely based on nurturing good ideas and, in turn, innovation is dependent on the creative individuals who dream up these new ideas and then turn them into reality.
As an organisation, EC has a culture that allows innovation to flourish based on nurturing the good ideas of our creative-spirited staff. The ability to come up with new ideas, and turn them into reality, is a very special talent indeed. We are all, therefore, very proud recipients of this award.
At EC we feel this continued recognition is a testament to our hard work and creativity of all our team. We would like to thank everyone who took the time to vote for us and we promise to maintain the high-standards you expect.
Comments
comments