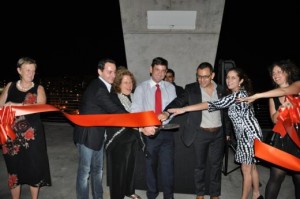 EC recently held an event to celebrate the opening of our exciting new English school in January 2012. The ceremony in Miami Beach coincided with the ICEF conference, bringing in agents and educators from across the world. Conference attendees as well as members of the Miami Beach community and city government were invited to celebrate in anticipation of our soon-to-be-open school. Students who want to learn English in Miami now have a wonderful school to go to!
The pictures attached show our amazing event space (actually a part of our building!!) and the ribbon cutting, assisted by the Miami Beach Chamber of Commerce and city commissioner – the bottom right picture is of the school's reception area.
With the EC logo and orange lights shining down across the streets of Miami Beach, there could be no question that EC has ARRIVED!!
An enormous thank you to everyone who came out from around the country and the globe to help make the event a success! We could not have done it without you!
Comments
comments