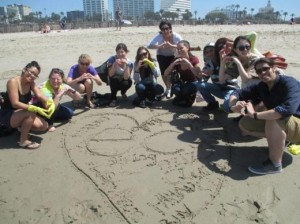 Taking for granted all we're blessed with is terribly easy, isn't it? Realising just how lucky many of us are makes us feel good and giving a little something in return for all the good we receive feels… well, unbeatably good too!
EC has always held community volunteering work close to heart. Last year, the 14th April was devoted to joining local causes: cleaning up the environment in our Los Angeles English school and charity fund-raising in our Bristol English school, to name only two.
This year, staff at our centres around the world participated in an exciting fortnight packed with all sorts of activities and events.
Want to find out what we were up to? Here's just a tasty slice:
3rd April: EC Central kicked off the fortnight with a Food Festival in aid of Inspire, a centre for children with disabilities.
6th April: EC Bristol held a Spring Fair Fundraiser in honour of local charities.
20th April: Was a busy day for many of our centres –
EC Los Angeles cleaned up Santa Monica Bay in the 'Heal the Bay' initiative.
EC New York helped out at the Jamaica Bay Wildlife Refuge.
EC Boston cleaned up the Charles River.
EC Miami carried out a beach clean-up with ECOMB, a local non-profit organisation.
EC Toronto took part in the 'Spring Clean Up' Day for Toronto Kiwanis Boys and Girls Club.
EC Cape Town opened a mini-library, as well as gardening and painting at Barcelona Township Orphanage.
EC Central helped out with some maintenance work at Inspire.
… And much more!
Check out our colourful photos in this Facebook album.
Comments
comments