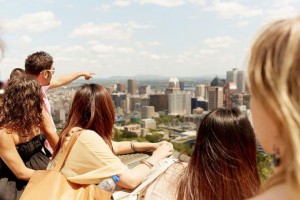 Did you know Montreal is the world's largest fully bilingual city, ranked 8th among the 10 best cities to visit in the world? ('Best in Travel 2013' guide, Lonely Planet).
Not only does this famous Canadian city bustle with colourful, multicultural events, entertainment and a vibrant nightlife all year round; it's the perfect place to be in if you'd like to learn English (or French) in Montreal. It can also give you a friendly, warm and lively downtown experience you will surely never forget!
Would you like to know why? We have 3 good reasons for you:
1. A breath of fresh air – The province of Quebec is teeming with lush countryside: Montreal is surrounded by the St. Lawrence, Ottawa and Prairies rivers and the Laurentian Mountains are only an hour away. It's the place to visit if you're after practising some cool sports and enjoying activities in the great outdoors. There are various adventurous and fun ways you can explore the city: by kayak, canoe, a bicycle or on foot, to name a few. I'm pretty sure you'll find Quebec's natural beauty overwhelming!
2. A gold mine of language learning opportunities – Home to English and French, Montreal is the place to be in if you'd like to learn both languages and get a feel for the culture. Hit two birds with one stone: take an English and French course in Montreal! Our modern school is run by friendly and professional staff, and is located in the Faubourg shopping mall in the city centre.
3. Culture, festivals and more culture – Are you a festival fun-freak or a culture geek? Montreal is sure to surprise you, no matter what you're into or after. July brings a two-weekend world culture festival held in Montreal's Jean-Drapeau Park – a celebration of 50 countries through music, dance, craft, food, games, shows and activities.
Located along the St. Lawrence River and loved by celebrity filmmakers, Old Montreal (or Vieux-Montreal) is the city's historical and cultural hub. You'll find yourself surrounded with beautiful architecture, cathedrals (Notre-Dame Basilica, to name one), squares, museums, markets (Bonsecours Market, to name another) and face-to-face with the 'Metropolitain' – an original art nouveau Parisian metro entrance gate.
Since Montreal happens to be so popular with celebrities, find out what they have to say about Canada's second biggest city in our upcoming blog post.
So, what about you? Ready to fly to Canada and make your own memories in Montreal?
Comments
comments