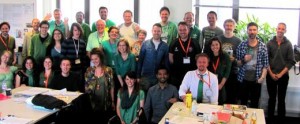 The UN World Environment Day at EC was a great success! On the 5th June, staff and students at our centres all over the world celebrated this global day for positive environmental action, by getting involved in all sorts of activities:
Staff and students wore green & held competitions to raise money for environmental causes
Teachers gave lessons on environmental subjects
Schools showed movies about environmental issues and
Staff agreed to a 'no paper' policy for the day.
Great work! Roll on next World Environment Day!
Comments
comments