Blue skies, crystal clear water and an abundance of festivals, concerts and activities to choose from; there's nothing quite like summer in Malta. This year, we're extremely excited to be involved in the Sliema Arts Festival, arguably one of the most exciting events of the season.
Taking place only 10 minutes from our school and right next to Surfside (EC Malta's official beach club), the festival welcomes artists from all over the world. EC has decided to curate its own EC artwork as part of the festival, so we have invited the amazingly talented elDimitry to collaborate with us once again. His final artwork at the Sliema Arts Festival, which will be done on a large wooden canvas painted over three days, will then be displayed at our school for all current and future students to enjoy.
elDimitry is a Spanish illustrator and designer whose stunning murals embellish the classrooms at EC Manchester and EC Washington, DC, helping us to provide inspiring learning spaces for our language students.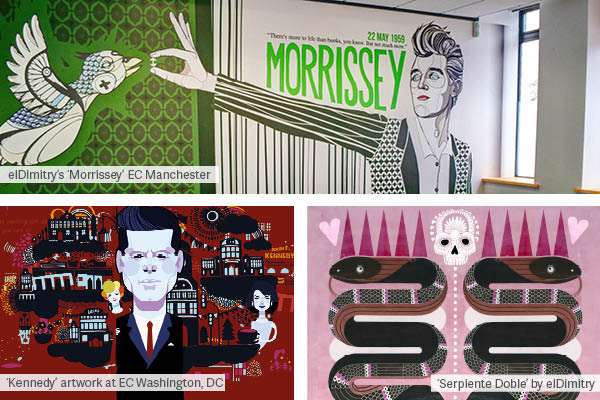 At EC Manchester, bright colours and funky designs liven up the classroom walls. Cultural icons such as Mancunian singer Morrissey, footballer Nobby Stiles, and Ethel 'Sunny' Lowry, the first British woman to swim across the English Channel, are depicted in elDimitry's abstract style. These artworks along with the urban, edgy design throughout the school make EC Manchester a unique place to learn English in the heart of the city.
Across the Atlantic at EC Washington, DC, elDimitry's creations reflect the global influence of US presidents throughout the ages. Lincoln's focused stare and a collage in homage to Kennedy evoke a powerful and inspirational atmosphere.
In Malta, elDimitry will be painting right on the beach throughout the weekend. He will be located by Surfside, EC Malta's official beach club, so students can watch him and be inspired as they relax or take a dip in the Mediterranean. If that's not enough, the Sliema Arts Festival has a full programme to keep you entertained. This includes live bands, a reggae dance area, local food stalls and a market selling local products.
Don't miss out! Enjoy a weekend of sun, sea and creativity in Sliema from 17th – 19th July, and watch as EC's and elDmiitry's imagination comes to life.
[hs_action id="943″]
Comments
comments