Continuing our journey around Malta, today we will talk about the north of the island and its two most popular beaches.
[hs_action id="1591″]
1. Għajn Tuffieħa Bay and Golden Bay
Set on Malta's North West coast, these two bays combine beach life with stunning surroundings and opportunities for trekking and adventure.
Starting with Golden Bay, the largest and most popular of the two, the sandy beach here is wide and deep, creating plenty of space for beach volleyball games, sandcastle-building, a variety of water sports, swimming and barbeques after dark. For a more luxurious experience, the Radisson Golden Sands Hotel located here has bars and restaurants overlooking the beach as well as a private hotel beach kitted out with canopies and sun loungers (at a charge).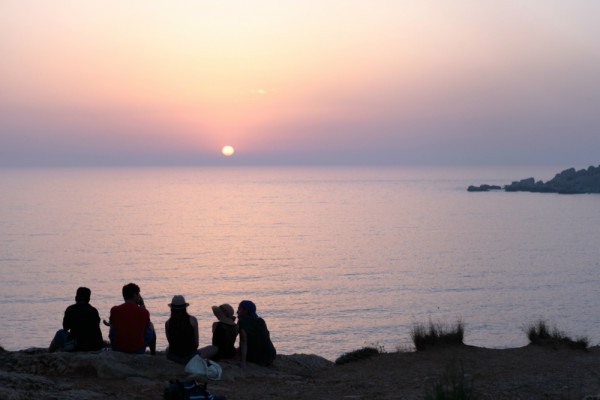 The next bay along the coast, Għajn Tuffieħa, can be reached via a long flight of stone steps that may deter lazier beach-goers, making it a quieter place than neighbouring Golden Bay. The long way down is very much rewarded however, as the beach is flanked by towering cliffs to the left and sand dunes and clay slopes to the right, making it one of the most beautiful beaches on the island.
The area around both beaches is prime trekking ground with clay slopes, cliff walks, and a Nature and History Park called Il-Majjistral. The clay slopes to the left end of Għajn Tuffieħa can be climbed and eventually lead to yet another sandy beach called Ġnejna Bay.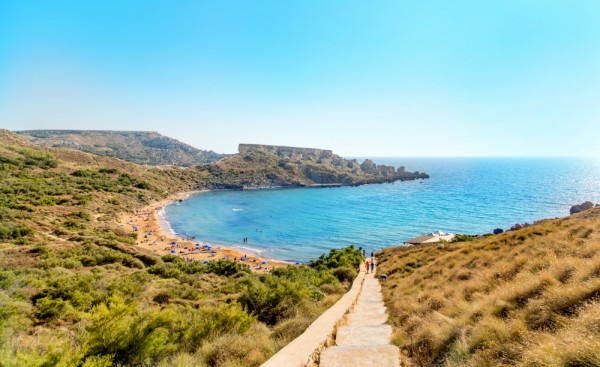 Visiting Għajn Tuffieħa Bay and Golden Bay
Sunset is particularly stunning here as you can watch the sun disappear on the horizon and enjoy a swim surrounded by the beautiful cliffs and vibrant colours.
Watch out for underwater currents in both bays, as these can be dangerous. Red flags will be flown when swimming is not recommended.
Getting to Għajn Tuffieħa Bay and Golden Bay
Closest Bus Stops: Għajn Tuffieħa Bus Terminus for Golden Bay and Riviera for Għajn Tuffieħa.
2. Mellieħa Bay & Għadira Nature Reserve
The last major bay before Malta's northernmost tip, Mellieħa Bay is one of Malta's best swimming and water sports spots. Thanks to its width and sheltered shape, waters here are calm, making it very popular with beachgoers practically every day in summer (get there early if you'd like a good spot).
The beach offers golden sand and all kinds of water sports including parasailing, Jet Ski rental, water skiing, windsurfing, kayaking, and paddle boating – but if you crave some quiet nature time, the Nature Reserve just behind the beach is perfect for you. Managed by Bird Life Malta, a local NGO, the reserve includes two hides where you can observe birds in their natural environment as they enjoy the brackish pools and sand-dune environment.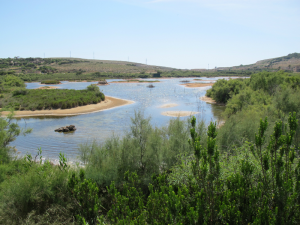 Visiting Għadira Nature Reserve
Entry to the reserve is free but donations help Bird Life continue their good work.
Opening hours
Saturday and Sunday: 10:00hrs to 16:00hrs.
Getting to Mellieħa Bay
Closest Bu¬¬s Stop: Għadira
Would you like to read more about places to visit while studying English in Malta? Check out our complete chapter "What to see & experience – Memorable Malta". Download it now for FREE!
[hs_action id="1591″]
Comments
comments