Of the one-million or so words populating the English language, it's difficult to find a word as underwhelming and over-used as the adjective 'nice'. There's nothing really wrong with this little group of letters, but if you're trying to raise your language level or impress your teacher, it's best to aim higher in terms of your vocabulary. The words you choose have their own strength, and language can be a powerful tool if you use it well – so we're going to set you up with 6 alternatives to help you get started.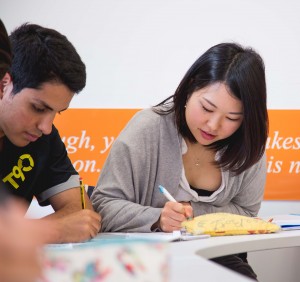 Lovely
We had a nice day at the beach

 We had a lovely day at the beach.
Picturesque
The village was really nice

 The village was really picturesque.
Friendly
She's very nice

 She's very friendly.
Delightful
It was a nice show

 It was a delightful show.
Delicious
The dinner you cooked was really nice!

 The dinner you cooked was delicious!
Charming
Montreal is a nice city with a European vibe

 Montreal is a charming city with a European vibe.
Now that you know 6 new ways to boost your English skills, put it into practice! Use a new adjective in your next writing or speaking task, and remember to read regularly to expand your vocabulary. If you're interested in learning more, download our FREE Vocabulary eBook to challenge yourself.
[hs_action id="2330″]
Comments
comments