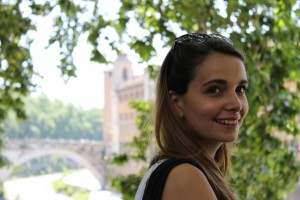 The wonderful and extremely talented Alessandra writes about her experience as an Intern at EC London 30+…
Dear all,
I've started many times to write this letter to you but every time I wasn't able to transform my feelings into words.
The experience I had with you at EC London 30+ has deeply changed me.
At the beginning I was shy and without any work experience but thanks to your warm welcome, the passion and professionalism you put into your job and the friendly and funny atmosphere that always reigns in the school, I quickly got used to my new position at the Reception.
Now that I'm back in Italy, I can clearly see the high value that this experience has given to me: I've found a sort of magical place where people work with enthusiasm, always trying to improve their capability in delivering a high quality service to the students and where you can really feel at home.
At a professional level, this job has taught me the dynamic of a work environment, how to handle responsibilities and how to organize different tasks during the day, also in some very busy moments…what is sure, at EC London 30+ you'll never get bored! Moreover I had a great possibility to improve my English.
But what I really won't forget of the time I spent at the school are the people. In a certain way I can say that I found a family there. People so willing of making my work experience as nice as possible, always ready to help me and who were every day in a good mood. I think that it's a big fortune to work in an environment where everybody is able to be 100% committed to their job and, at the same time, to keep in mind the funny and creative side of life.
I suggest everybody who is interested in doing an experience which will last for all its life to go to EC school, I'm sure you'll have an amazing time, both as a student or as an intern.
Now that I have so many good friends in London, the world seems to be smaller then before, and I hope we'll keep in touch forever.
Thank you for the great time, I miss you all!
Alessandra
If you're interested in becoming a volunteer intern at EC London 30+, please email a copy of your CV to: hrhelpdesk@ecenglish.com
Comments
comments