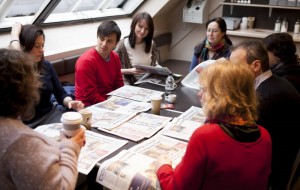 Every morning at EC Covent Garden 30+, a number of our students come to Breakfast Club where they sit down with one of our teachers and discuss the major topics in the newspapers. It is always a great success and our students are delighted that they are able to understand some of the big news stories that are happening in the U.K. and around the world.
But can you do this by yourself?
The quick answer is YES, yes you can. Just follow the simple steps below and you can use the Metro to help you practise your English and expand your cultural knowledge of England.
Choose an article with a picture that looks interesting.
Very often headlines in the Metro contain puns (click for a dictionary definition of "pun") which can be confusing if you don't have the cultural knowledge to understand them. My advice is if you don't understand the headline, ignore it and move on to the picture.
Look at the picture and predict what you think the article will be about.
Read the story quickly to check your predictions. Do not worry about vocabulary or grammar at this point. Just read for the general idea of the article.
Underline some of the key words in the story that you don't understand. Try to get the meaning from the context. If you're not sure of the meaning, you can check your dictionary but try to do it by yourself first.
Read the article again more slowly, focusing on the details.
Go tell someone what you read and your opinion of the article. Try to use some of the key words when you're speaking. If you use a word in conversation once, you're more likely to use it again.
So if you're an English language student in London, pick up a free copy of the Metro at your local underground station and try out the simple steps above.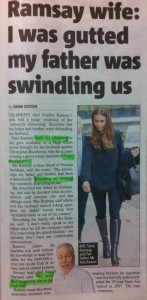 If you would like more information about Breakfast Club or our English course for adults in London, check out EC London Covent Garden website.
Comments
comments