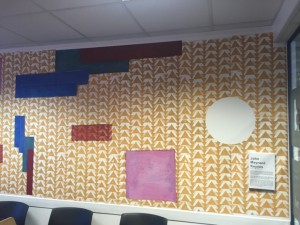 Have you wondered what the inspiration behind our beautiful classroom designs at EC London 30+ is? Well, have a read of this blog from our Teacher Jess to find out.
Each of our classrooms has its own unique decoration. They are very bright and colourful and some are quite abstract. Although each classroom is individual they are all connected as they are inspired by a group of artists and writers who lived and worked in Bloomsbury at the beginning of the 20th century. They are called The Bloomsbury Group.
Bloomsbury is an area of London just south of EC school. It is home to London University, the British Museum and several famous medical institutions. In the early 20th century it was a residential area with lots of large houses and garden squares.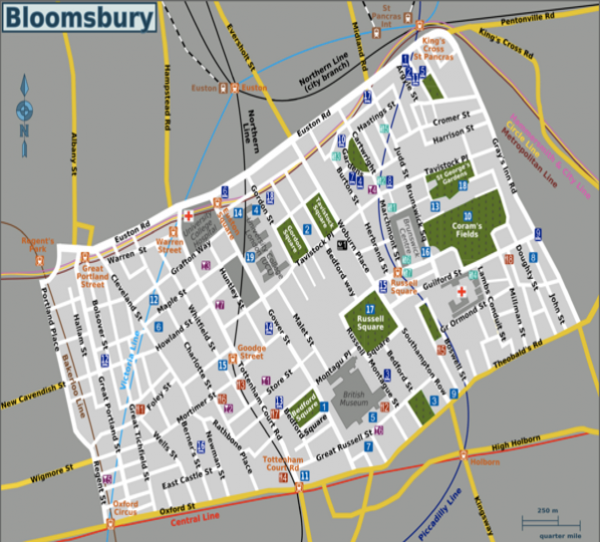 The most famous member of The Bloomsbury Group is the writer Virginia Woolf. She wrote several famous books including Mrs Dalloway and To the Lighthouse. Have a look at classroom 308+ to see an image of Virginia designed by her sister Vanessa Bell.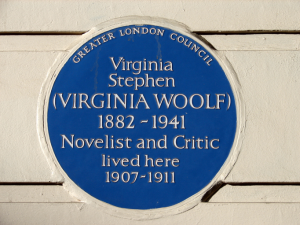 Vanessa was an artist and designer and often designed book covers for her sister's novels. You can see more examples of her designs in classrooms 310+, 313+ and 314+.
Another Bloomsbury Group writer is represented in classroom 311+. This is Lytton Strachey in an image which is inspired by a painting by Dora Carrington. Lytton Strachey was famous for writing biographies especially one about Queen Victoria. He was also quite well known for having a very long beard – this was very unfashionable at the time.
Classrooms 307+ and 309+ pay tribute to two Bloomsbury Group artists. There is a self-portrait by Roger Fry who became a very successful curator and organiser of art exhibitions. The abstract design is taken from a painting by Duncan Grant.
Finally, classroom 312+ takes us to a leafy, Bloomsbury Square in autumn and is inspired by the book A Room with a View by E.M. Forster.
The Bloomsbury Group are also famous for the many relationships they had with each other and for bringing a little bit of colour and controversy to Britain at the end of the very conservative Victorian period.
You can see examples of paintings by Vanessa Bell, Duncan Grant, Roger Fry and Dora Carrington in these galleries:
Tate Britain www.tate.org.uk
The Courtauld Gallery www.courtauld.ac.uk
The National Portrait Gallery www.npg.org.uk
The Victoria and Albert Museum www.vam.ac.uk
Have a walk around Bloomsbury and see where the various members of The Bloomsbury Group lived:
Gordon Square
Virginia Woolf and Vanessa Bell lived at number 46.
Lytton Strachey lived at number 51.
At various times other members of the group lived at 37, 41 and 50 Gordon Square.
Tavistock Square
Tavistock Square was home to Virginia Woolf from 1924-1939. Their house doesn't exist anymore (the Tavistock Hotel has replaced it) but there is a statue of Virginia in the square.
Fitzroy Square
Both Roger Fry and Duncan Grant had studios on this square. Fry's was at number 21 and Grant's at number 22.
Roger Fry also had a famous workshop called the Omega Workshop at number 33.
Virginia Woolf lived at number 29 from 1907-1911.
Duncan Grant lived at number 26.
Charleston Cottage
The Bloomsbury Group members owned a beautiful cottage outside London. It was decorated by Vanessa Bell and is full of interesting pieces of art and has a lovely Italian style garden. It is quite difficult to get to without a car but have a look at the website for images and information www.charleston.org.uk
If you'd like to learn more about our Classrooms or would just like to improve your English, check out our Adult English classes in London
Comments
comments