For Claude Jomini from Switzerland, coming back to study at EC London is an Easy Choice. Read the interview below to find out why he chooses EC London and his recommendations for making the most of your time in London.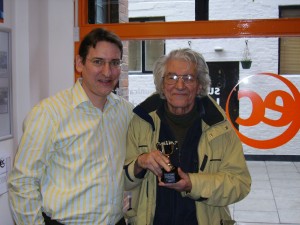 How many times have you studied at EC London?
At the moment I come back to EC School for the 14th time. The first time was in 23rd September 2002 when the school was called "The Cambridge School of English", and in total there are 46 weeks or 230 days, it makes about 2 or 3 years.
Depends of the sense of the word return? When I go back home I'm sad to leave EC School, but my knowledge in English has increased! When I come back to EC School, I'm very happy to find "my family" again and to enrich my favourite language.
What changes have you seen since you started coming here?
Firstly, the name of the school (see 1). In the beginning, after each stay, I wrote a letter to the Director of studies to give him/her my feeling about the school and to make my suggestions to improve the performance especially about the teaching level. No I have to admit that all has been put into effect. Congratulations and thanks very much!
How would you describe the teaching approach at EC London?
The message or the image about teaching is to give to all the students from all countries the highest level in English, in the best conditions, according to each class and in an attractive and perfect school.
What have been your favourite lessons?
My favourite lessons have been an intermediate class with the teaching team of John S and Mick in May and June 2007. All students have been gotten involved in this class. The atmosphere has been perfect because we have talked about all kinds of subjects without pressure, naturally and for the great pleasure of all. It has been really exceptional.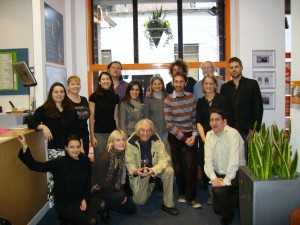 What is your advice for the best way to learn a language?
Firstly, you must be motivated and have the will and the wish to learn English.
The motivations could be the job, a long trip abroad, the family or simply the pleasure (in my case!). Secondly, you must get up early, arrive on time at school and concentrate yourself all the time. Thirdly, listen, speak and read as much as possible. Fourthly, do conscientiously your homework and the exams in the workbook during, minimum, one or two hours per day.
Do you have any advice for future students coming to EC London?
There are two cases. Firstly, you have absolutely no idea about English because you didn't study English in your school in your country. You are automatically a beginner or a "survivor". You have to stay a long time at EC School a minimum the year but at the end you have a good level to speak fluently English and to try to pass the first certificate. Secondly, you learned English in your country and you have an idea about grammar and vocabulary but no practice. In this case you can have one or more systematically your level in practice. The condition is to have a little bit of time but soon you'll be like a fish in the water.
What are your favourite London "hotspots"?
Culture: Tate Modern and the Design Museum.
Markets: Portobello Market and Brick Lane (Saturday and Sunday)
Auctions: Christies South Kensington
Walking and Architecture: Charing Cross, Embankment Pier, Thames paths on both sides.
British Empire and Navy: Greenwich and the British Museum (National Maritime Museum).
To Relax: Hyde Park and the Serpentine Gallery.
Royals: Buckingham Palace and Windsor Castle.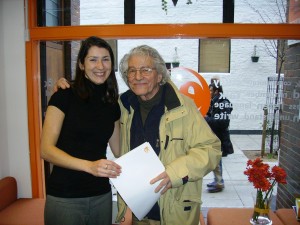 Dear future EC London student,
I intend to come back quickly as possible if my health will be ok. It depends on the availability of my wife who is my boss about that. If it could be in May and June, I hope minimum three weeks at school (my wife would like to stay all the time in London, but it's not possible…unfortunately!).
Congratulations and thanks to all the (staff and teachers), for your dedication, your kindness and your professional competence. Go on doing your fascinating job following the present way and doing your best!
BRAVO ET MERCI MADAMES ET MESSIEURS!
p.s. I can strongly recommend your school of course.
Claude Jomini
Comments
comments