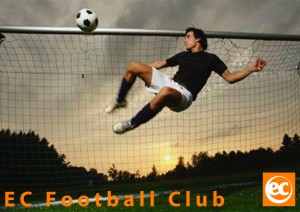 Last week was the first outing for the EC football club and I would like to thank those who came down to enjoy what was a lovely summers evening in Green Park. Although we were only a few players we still managed to have a great time and meet some local guys with whom we played.
To start we met outside EC from where we made our way down to Covent Garden tube, which took us down a couple of stops to Green Park. Once there we walked into the park with the sun shining and where there were a multitude of people enjoying the end of a glorious day. We walked through the sunbathers, exercise freaks with their personal trainers and also the occasional drunkard and headed over to a group of people warming up for a game of footy. On arrival we asked if we could join them and they were more than welcome to let us play, as they were short on numbers. Although the game was played at a fairly high pace, which is the English way, we all played well, enjoyed ourselves and represented EC with some sterling attacking and defensive performances.
Hopefully this is the beginning of big things to come for the EC football club. I hope to see some more of you down there next week, on Wednesday 7th of October at 2.30pm for the EC football club trials.
Written by Sam.
Comments
comments