Sunday 14th February 2010 was a day for huge celebration in China as we all welcomed in the new lunar year!
Similar to December in the western world, the month leading up to this great day is an exciting time of preparation and anticipation. Here in the Guangdong province lanterns adorn the streets, orange trees decorate the buildings and red envelopes containing "lucky money" are hung from the branches to be given to all unmarried family members on the first day of the new year.
Most people spend the previous day travelling home to their families where they enjoy the week-long public holiday feasting on traditional delicacies and celebrating together.   
Not having a Chinese family to go home to, we decided to make the most of our week by visiting the beautiful town of Yangshuo in nearby Guanxi province. There we enjoyed a wonderful few days of cycling, bamboo-rafting, walking and climbing the stunning karst mountains. Here is a photo of me on the bamboo raft with our faithful captain, Andy: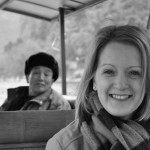 We stayed in a fantastic guesthouse called The Giggling Tree where the friendly Dutch staff made us very welcome and the chef worked his magic to create no end of mouth-watering dishes.
We returned to Guangzhou feeling rested, refreshed and more than ready to take on the Year of the Tiger!
Vocab focus:
lunar year = the year according to the Chinese lunisolar calendar
anticipation = hope and excitement
adorn = decorate (formal)
feasting = eating hungrily and with great enjoyment
to make the most of sth = to use to the best advantage, to profit from sth
mouth-watering = delicious
Comments
comments