When I first suggested an outing to an open air swimming pool…in the middle of winter, I think most people thought I was mad! However, there was a bright start to Sunday morning 27th February and fortunately a few other people shared my enthusiasm so we set off to Holborn for the journey to London Fields in the heart of Hackney. This area is a very popular expanse of grassland and park and in the centre is a 50m open air pool that is open all year round. We enjoyed the walk through the park and there was no mistaking where the pool was, as we could see the steam coming off the water!
The pool is London's only heated Olympic size open air swimming pool and was built in Art Deco style in 1932. After being closed for nearly 20 years it reopened in 2006 after a multi million pound refurbishment. The water is maintained at 25 degrees Centigrade and although it was chilly as we walked to the edge of the pool in the winter air, it was lovely and warm as soon as we got in.
A mixture of fun and some strenuous lengths ensued and we finally decided it was time for a hot snack. There is a great cafe in the grounds and bowls of soup completed a very unusual and entertaining trip. We didn't rush as there was a lot to chat about and we finally departed with a warm glow to our bodies and a definite feel-good factor.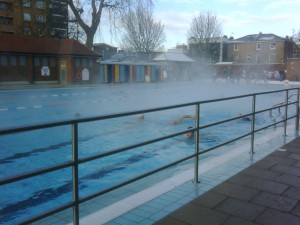 Comments
comments