Name: Miriam
Age: 21 years
Nationality: Austrian
Mother tongue: German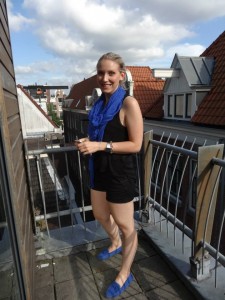 Miriam is our new Student Services Intern for the next four months. We would like to welcome her in our team and hope she will have a great stay in the EC London and the city! She has been a student and did a IELTS UK courses here in summer 2014, a few of you met her here already!
Let's find out more about Miriam and her internship!
Studies:
''I attended a school for Hotelmanagement and Hospitality in Innsbruck, Tyrol and going to start University after my internship here. As I'm going to study International Business and Management in English and German the four months in the EC London School are just the right way to start my career.''
Future plans:
''As I said before, my University course starts in October back in Austria. I'm really excited to learn more about Finance, Economics, Marketing and to learn another language.
Favourite food:
'' I'm a big food lover anyway. So London is the perfect city, you can get everything you like and loads to try.  😉
Hobbies:
''I really enjoy to cook for my friends or my family. As well as I love to bake cakes or make cookies.''
''My favourite thing to do is to go for a hiking tour in the mountains in my hometown or somewhere in the neighbour mountains. I just love everything about being out in the nature, the sound of the babbling stream or the silence of the wood. ''
Comments
comments