Auemporn Chanwipak was one of our great students!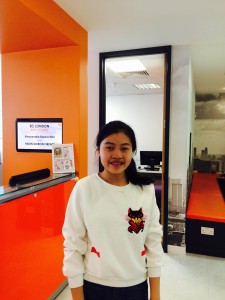 Auemporn attended a english course in the UK as one of our youngest students. She stayed and studied here for 2 months. She also had an amazing host family near the school, which was a wonderful experience for her.
Have a look at what she wrote and what her impressions are after her stay in the EC London!
"I have been studying at EC London for 2 months. I would recommend EC London have class small but the atmosphere is great. I like London about have many place beautiful and the city is beautiful and clean.
I like the school about the teachers are brilliant and funny for taught in class and atmosphere is great. My favorite hang out went to a museum, market, park, because it is really pretty there in the evenings.
I did cook with my host family, went to a museum, market on a sunday afternoon.I like to went Bigben, Greenpark, Greenwich and Sunday up market.
I really want to come back to EC London, I think EC London taught me english very good, because I have enjoy a great time in school and out of school.
I have friends from many country from EC London now."
Comments
comments