Name: Martina
Age: 26 years
Nationality: Italian
Mother tongue: Italian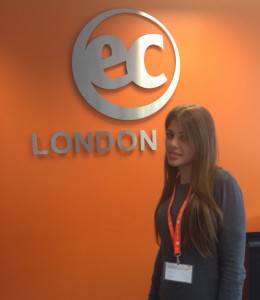 Martina is our new Academic Intern for the next three months. We would like to welcome her into our team and hope she will has a great stay in EC London and the city! She has been a student here for over six months and for her this is a great opportunity to practice what she has learnt.
Let's find out more about Martina!
Studies and future plans:
"Last year I graduated in Economics, I studied in Venice and my plan now is to do my master's degree in Marketing here in London because it is a city that offers a lot and they are good opportunities for the future."
Favourite food:
"Even if I love London I still prefer Italian food. Like lasagne, pasta and tiramisu!"
Favourite place in London:
"I love taking pictures and the River Thames Walk is the best place to do it, Shoreditch is amazing for pubs and clubbing, and all the marvellous parks like Regent's Park, Hyde Park and Hampstead Heath can help you to chill out. Here you can also visit a lot of museums and exhibitions during every period of the year. These are only a few reasons why I chose London."
Your experience with EC London as a student:
"I did my English courses in London  for six months this year, from March to September, and it was a really positive experience. I had the opportunity to meet a lot of new people from other countries and learn about different cultures. The lessons are really interesting and amusing, the teachers very qualified and helpful. As I want to do my master's here at the end of my course, I did the IELTS exam."
Comments
comments