London, the dream city for lots of people that want to Learn English!
I always wanted to live in London and my dream came true.. I came to London for an English course and then I found a job, in an English school 🙂
When I was still in Italy I had a completely different imagine of London and I didn't know that it is so multicultural. This is the aspect I like the most about London. People from all over the world come to London to study or to work.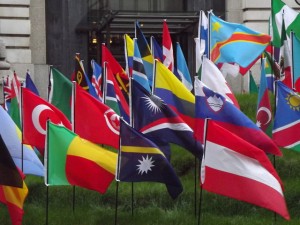 Each borough of London has a a tradition like Soho or Spitalfields, Brick Lane and Brixton.
Soho is also known as China Town and you can find lots of Chinese Restaurants and shops. In fact, here takes place the largest Chinese New Year festival outside China.
The connections with the Asian culture can be seen in Brick Lane, famous for the best curry Restaurants in the City. London has also got a big Latin community and amazing latin restaurants and clubs can be found in South London. Walking in Elephant and Caslte area is like walking in South America!!
The place to go to experience the Afro-Caribbean "spirit" is Brixton Market which is open at the weekend and offers cheap fresh exotic food.
Other multicultural places worth a visit are Ridley Road Market in Dalston, with a mixture of people from Turkey and West Africa; Green Lanes in Haringey, which has some amazing Turkish restaurants; the Portuguese and Moroccan shops near Ladbroke Grove station.
Coming to London is a great opportunity to Learn English but also to get to know other cultures.
Carla, our student service coordinator.
Comments
comments