Giovani Bastidas Hernandez from Chile joined EC London school of English in beginning of October, after studying at EC Manchester. He shared with us why did he choose EC, what he likes most about EC teachers and his experience in London.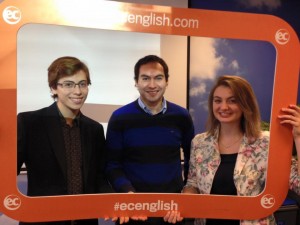 Why did you choose to study with EC?
Because I found good comments about the school on internet and the school has different places to choose to study in the UK. Also is cheaper than other schools with similar level.
What do you like most about EC teachers?
That most of them are dynamic in class and you don't feel boring in class. Also most of them have a lot of knowledge about the English language and the preparation for international exams. In addition they are interested in verify the individual improvement of the students and focus in help you to improve your weakness.
What will be your most unforgettable memory of EC?
For me in general the activities managed by Social Programme, because you can know, meet and hare with the other students of the school. I don't have any specific unforgettable memory, good memories overall.
Would you recommend EC to a friend? Why?
I would recommend study in this EC London school of English. In the school you can focus specifically in your exam preparation and not necessary in General English. The Social programme provide several activities to have fun and share with people and the residence is very good located and connected. I would recommend it also because is cheaper than other school of the same level.
Thank you Giovani for being a part of EC London and we wish you all the best luck in your future adventures!
Comments
comments