A worm welcome to our new Student Services Intern Niklas, who recently joined EC English school in the UK. Niklas came together with Nathalie and is going to stay with us for 2 months. You can find him in Reception and he will be more than happy to help you if you have any questions about the school or London, you need to print out your documents or you need a Student letter. Let's get to know him a bit better.
Name: Niklas Wittström
Age: 18
Nationality: Swedish
Home: In a village that is called Sävedalen
Job at EC English school in the UK: Student Service Intern
How long are you going to stay at English school in the UK? From January 5th until February 19th.
Mother tongue: Swedish
Hobbies: Skiing and football
Family: Mother, father and two older brothers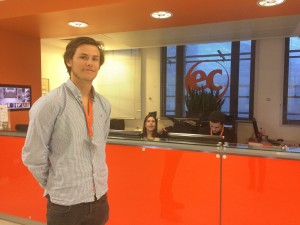 Do you speak any other languages? 
Besides Swedish I also speak English and a little bit of Spanish.
What is your future plans?
If I do not become the new Zlatan, I will be a movie-star or a ski-star. Otherwise I would like to work with Economics.
What is your favourite food, series and book?
My favourite food is my grandma's pancakes and my favourite book is Harry Potter. When it comes to series I like to watch Entourage.
What is your first impression of London?
I am really looking forward to stay here at EC and London. My first impressions are great!
Why did you choose London?
I chose London because it is a big city and so much to do. The accent is easier and better to understand  than others accents for example the accent from Scotland. I think it is a great work experience and I will meet a lot of new friends and we'll have a great time.
Comments
comments