Caroline Engstrom was doing one of ours Homestay London English Courses at EC London for a little less than 6 months. She chose to join the General English course and stay with a Homestay. Today is her last day at EC Lodnon and she is really happy to share her experience.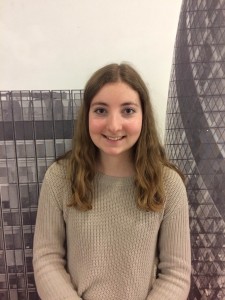 Why did you choose study with EC?
My agency recommended me this school. I looked on internet and I found good reviews about EC so I decided to come here.
What do you like about London? 
London feels very welcoming. All of the British people I have met are really friendly and the brittish accent is amazing… I like the buildings, parks and a lot of different things to do.
What do you like about the school?
I like the social programme because its different events every week, like dinnerclubs, bowling, zoo bar.
What will be your most unforgettable memory of EC?
Everyday when I played table football with all of my friends, we had such a good time.
Would you recommend EC to a friend? Why?
I would definitely recommend EC to my friends! The atmosphere in the school is fantastic. The people(students, teachers, staff) are all really kind. Our lessons are varying which makes it easier to improve your English.
Where is your favourite place to hang out in the evnings? What is the best things to do on a Sunday afternoon?
On Wednesdays I recommend you to go to Zoo Bar, which is in the social programme. You can meet other students there and have a good time together. On a Sunday afternoon a prefer to go to a café or resturants with my friends and relaxing.
Contact us if you would like to join one of ours Homestay London English Courses.
Comments
comments