Filippa has been joining CPE exam preparation course since September.
To enhance her English and prepare for future studies, she came to London.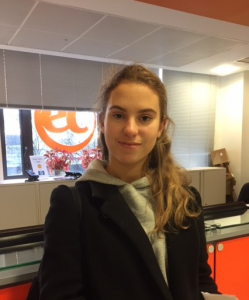 Living in the biggest city of England with variety of cultures, she enjoyed this multicultural city life a lot.
She could go to many different kinds of restaurants with her friends, and sometimes stroll down the street looking at the beautiful buildings.
Regarding the school, it is located in the heart of the city (which is great)
and also the building is modern and involvement in the students.
Good teachers, great location and sensible learning content, she'd definitely recommend EC to her friends.
Furthermore, her most unforgettable memory of EC is the breakfast with Sara and the classmates.
You are more than welcome to visit us to know more information about London homestay English Courses.
Comments
comments