Valeria is an EC LONDON student from Russia. She wanted to take English Courses in London.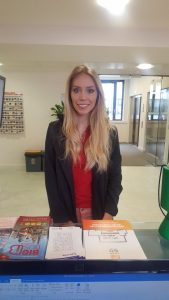 It was a pleasure to meet her. She left her beautiful feedback to us to share:
Why did you choose to study with EC?
I chose EC LONDON because my manager has recommended me EC.
And EC is in the center of London.
What do you like about London? What do you like about the school?
About the school I think that the atmosphere is very comfortable and friendly. About London I think that British people are very friendly. In London I feel that I am relaxed and free.
What will be your most unforgattable memory of EC?
I had a lot of fun, Every lessons included. My most enjoyable time was going to Borought market during lessons all together.
Would you recommended EC to a friend? Why?
Oh, yeah! Because the school consists of lessons, many kinds of activity and frienship. It isn't only lessons and it isn't boring at all.
Where is your favorite place to hang out in the evenings? What is the best thing to do on Sunday afternoon?
Actually, I don't have a favorite place. Every day I tried to visit different place: Restaurants, museums and cities near London.
We are grateful for the positive feedback that Valeria gave to us and feel glad that she had a great time here :).
Comments
comments