Korean BBQ is not only food but a unique experience. Immerse yourself in the cacophonous and aromatic atmosphere of Koreatown and learn to cook your own meat at you table like a pro! Each piece of meat will be cooked to perfection because you'll do it yourself, and for every bite too!
This is what my friend, Danny Lim, has to say about Korean BBQ:
"Road to Seoul (http://www.yelp.com/biz/road-to-seoul-los-angeles)
is one of my favorites. It has good quality, variety, and I always order 소장
(small intestines) at the end. Remember, if you're going to get it, get 소장 (small intestines), not 대장 (big
intestines). Their 매운 돼지고기 (spicy,
3-layered pork) is good too!
Some people don't, but I like HaeJangChon
(http://www.haejangchon.com/new/).
I like their pork BBQ and they also make kimchee fried rice at the end if you
ask for it!
Tahoe Galbi (http://tahoegalbi.com/)
is also good. They have Korean and Brazilian BBQ in one!
If you're looking for even cheaper all-you-can-eat, you can
also check out Sanya (http://www.yelp.com/biz/sanya-los-angeles)
and Oh Dae San (http://www.yelp.com/biz/o-dae-san-los-angeles).
They don't have as much variety, but they still offer all the meat that you could
possibly eat!"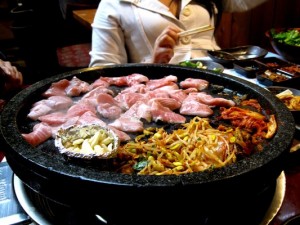 Comments
comments