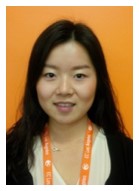 Hi,
I am Tara! I am 23 years old and from Korea so my mother tongue is Korean, but I can speak English and little bit of Japanese. Please feel free to talk with me in any of the languages I speak!
I am studying convention management in Korea, so I learn lots of things related to tourism and international stuff. Not only academically, but also I really like to learn about other cultures and to travel around! I was in Sydney for 9 months and traveled to China, Japan, and Thailand. Finally I am here in the US now! But the best place to travel is Korea! I highly recommend that you visit.
Just before coming to the US, I was president of the International students club at my university. For one and half years, I spent really great time and made unforgettable memories while experiencing lots of Korean cultural and touristic stuff with exchange students in Korea.  In the end, I felt it was time for me to go abroad for a while to explore other countries before I graduate. This experience also really influenced me to work for EC LA, too. And I came to the US last August. I really enjoyed my laid back life as a student in San Diego, one of the most beautiful cities I've ever lived in. It was such an amazing city that I really want to show off all of my photos I took in SD.
Now I am here in LA!, a more trendy and fast-paced city! I was really dazzled by the night view of the whole city at Griffith observatory and couldn't believe that I was in the city where I dreamt about while watching Hollywood movies. I already love this city.  You might have already noticed the reason why I moved to LA! I came here for my internship at EC LA, a super exciting and friendly work place. I am really enjoying my work and want to say thanks to all of my coworker for helping me in so many ways!
I have completed almost one fourth of my internship at EC LA so far but still have a pretty long time to go. While I am here for my internship I really want to make this opportunity the best experience of my life.
Come learn basic English classes in Los Angeles, and meet Tara!
Comments
comments