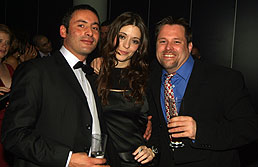 Another Another year has gone by and EC Malta has ended it in style! The Staff Christmas Party at the Hilton was a great success, the party theme being ' Back to the Future'. Staff members were welcomed in the BC (past) era by cavemen and eventually passed through a time-warp into the present where a band was playing and drinks started flowing! A time capsule was filled with EC mementos such as brouchures, reports, and photos and then sealed to be opened in 10 years time. with this the party moved on to the future section where a DJ was waiting in a spaceship to carry the party on till the early morning!
The Junior Summer Staff Party was held the following week at Qube, the theme being 'Black & Silver'. There was a great atmosphere and everyone was reuniting after the break from the summer season.
And last but not least, the EC Student Party held at Zest,was also a wicked event with free flowing Mulled wine and Sangria getting the party started in no time!
Comments
comments