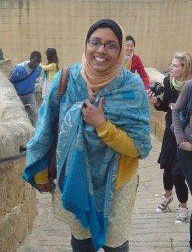 I came to Malta through a scheme of the European Commission which provided me with a 10 week long internship in the journalism sector. My aim was to learn about the skills required by a journalist, gain an understanding of the industry and immerse myself in a different culture and country.
I have to say I have not been disappointed. My time in Malta has been memorable for two reasons- everything that I've learnt and everyone that I've met.
My placement has been at www.di-ve.com, Malta's most popular online newssite and the experience has been fantastic!
I work with a great team for whom I have only praise and thanks. My editor, Vanessa Macdonald has been more than a work colleague and has guided me and challenged me. I truly feel that I have gained in confidence and ability and that my writing has improved.
I've also had the opportunity to experience some wonderful things, one highlight being when I met the Maltese Prime Minister at Auberge de Castille. It was a privilege just to be in the building and very exciting to observe Vanessa interview him and see what goes on behind the cameras.
Staying here has also taught me lessons outside the world of work. Malta itself is a great country for me- I love seeing the sandstone buildings with their colourful shutters and I think the view of the sea that greets me in the mornings is one of the best there is!
Moreover, it's been a great pleasure living with my roommate, cooking for myself and others and above all making friends with people from all over the world who I would not have met otherwise.
That is the best feature of living in EC accommodation – meeting Korean, French, Japanese, Swiss and German students (as well as many other nationalities) under one roof, and usually in one room- the kitchen! I have made some dear friends who have truly made my experience the brilliant one that it is.
Comments
comments