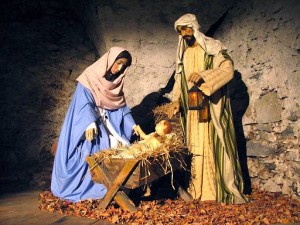 A nativity scene, crèche, or crib, is a depiction of the birth of Jesus as described in the gospels of Matthew and Luke. While the term "nativity scene" typically includes two dimensional depictions in film, painting, printmaking, and other media, the term popularly refers to static, three-dimensional, commercial or folk art dioramas, or pantomimes called "living nativity scenes" in which real humans and animals participate.
In Malta, nativity scenes are called 'il-presepju'. Scenes are displayed in churches and most homes, complete with figurines representing Jesus, Mary and Joseph. The nativity scene is also popular in other countries, but in Malta, it is a staple of Christmas celebration.
This Festive Season the Malta Tourism Authority,  together with the Ghaqda Hbieb tal-Presepju will be organising a Maltese Crib and Christmas Art Exhibition at the Auberge D'Italie (premises of the Secretariat for Tourism and the Environment) Merchants Street, Valletta.
This will be a high quality art and crafts exhibition focusing on the Christmas theme whereby artists will express themselves in a variety of media.   The Exhibition will open on December 17 and close on January 7. 2011.
Comments
comments