An article by Student Nadja Weber from Germany
You might have already found out that EC school's teachers are not just teachers. There are some really great artistic talents amongst them. A few weeks ago I had the chance to have a nice chat with two EC teachers: Lizzie Eldrige, a respected Scottish author, living in Malta and the painter Selina Scerri, who is Maltese. I asked them about their passions, their inspirations and about their further plans.
Lizzie, you are not just a passionate actor but you have also completed your first novel called "Duende" recently. How long did it take you to write this novel?
Lizzie: "I started writing the novel in November 2009 and the inspiration came from a strange visit to Madrid in October 2009. So, I worked pretty much every night after work and every weekend and it really was a labor of love. I really wanted to write it. So, I finished the novel in February 2011 and in December of the same year it was finally published."
Tell us, what is the book about?
Lizzie: "The book is set in Spain in 1936 and it's on the lives of two men, fictional characters, and their relationship, they are homosexual. It also encompasses the historical, political, artistic and social landscape of Spain at that time. So, it inter-seeds fact and fiction. It is fiction but it also refers to the reality of Spain at that time, a time when Spain was more and more quickly heading towards civil war."
So, this sounds very interesting. Why did you choose this particular theme?
Lizzie: "Oh, that's difficult. I think it goes back to my love of a Spanish writer called Federico García Lorca, who was alive at that time and is a character in my novel. He was himself not only a beautiful writer and an important writer in Spain. He was also homosexual at a time when homosexuality was very much taboo and forbidden. I think it was that kind of interest that took my novel to where it eventually tends to be.
Where did you get your inspiration from for that book?
Lizzie: "The inspiration initially came from that trip to Madrid where I came across the statue of Federico García Lorca, by accident. Than after that it was my imagination. As I began writing, the more I wrote, the more I had to begin to research the period and the people. So it was a kind of combination of imagination, research, fiction and facts."
You gave your novel the Spanish title "Duende" which sounds very special. Explain us the meaning and what should it tell us?
Lizzie: "It's one the most difficult words to translate from Spanish into English. It has two basic meanings: "Duende" in Spanish refers to a little spirit or like a little elf, for example, something or one that causes trouble or mischief. That's one meaning. Another meaning is one which Federico García Lorca uses when he is writing about art- (art in a general sense). Here, it refers to the struggle of the artist to connect with an express of fundamental truths. So, it's quite a painful and difficult struggle. But one he believed the artist should follow.
Let's talk a little bit of your future plans. What have you got installed for us in the pipe line?
Lizzie: "Well, I started working on a second novel, which connects with the themes in the first novel "Duende". The second novel I wanted to be something that people can read without having read the first novel but if you have read the first novel, you can make connections with it. So, the next novel is set in Spain again, but the main character is Maltese. It also connects to a strange Cuban religion "Santeria" which is a kind of mixture of Catholicism and Paganism. That's the kind of theme I want to explore this time.
That's a very unusual but exciting theme, I think. But now let's move from the literary arts to a fine art. Selina, you are a famous painter in Malta. Is there a kind art that you like the most?
Selina: "Actually, I like all kinds of art. When you work as an artist, you cannot have preferences. You have to be able to look at art from different perspectives and learn how to use it according to your needs. There is no "like". That's what it is and how you have to accept it and have to explore it.
So, how would you describe yourself from a painter's perspective?
Selina: "Well, I'm a painter and all I do is paint. I can't think 3 D, I can't imagine making a movie. It's all just about painting."
What are you currently working on and where do you see yourself progressing to?
Selina: "I have a few projects, but I cannot reveal the name of the commission but I'm going to work on two labels for a well known wine company here in Malta plus I'm working towards an exhibition. A few of the commissions were private clients and maybe moving some work to London but that's not for sure."
Selina, tell us where do you get your inspiration from?
Selina: "Oh, you have to study. The inspiration doesn't just come by itself. Usually, you have to have a goal and then work towards that goal. You don't really actually have to reach the goal, you can go sideward."
You mentioned your exhibitions. If I would like to see your paintings, when and where can I visit your next exhibition?
Selina: "Currently I'm working at a gallery with Christine X in Malta. So, you can go and see them there. (She also sells my paintings). And then I'm planning an exhibition, but I'm not sure with whom I'm going to work with because I have two proposals from two different galleries. I have also a gallery in London, but I'm still not sure."
…and last but not least, what advice would you give to any inspiring artists out there?
Selina: "Definitely, you have to work hard. That's all it is. You have to put in many hours accept the fact that not everybody might like your art. But you just have to accept it and work hard."
As you can see from my interviews, there is more than meets the eye when we look at our teachers at EC. So the next time you have a lesson you may well think to yourself, who is really teaching me, a famous author or painter? Interesting information was obtained thanks to these interviews, my regards to both, Lizzie and Selina. Lizzie's book "Duende" is currently available for purchase from Amazon.com and Amazon.co.uk. If you want to stick deeper in their work and get some further information, just ask them. I wish you all the best and a nice time here in Malta! This has been Nadja Weber reporting.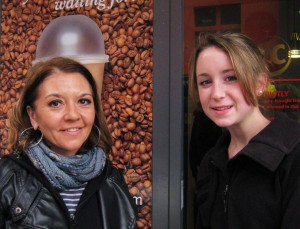 Comments
comments