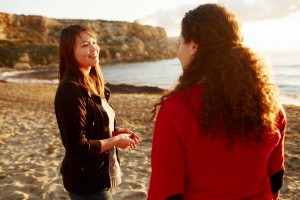 From a personal perspective, I believe that speaking needs a lot of face to face communication, and the most important thing that the student should have the confidence to speak English, and turn off the dictionary that is in their minds. Speak English, think in English and always hear English.
Try to avoid using your native language as much as possible, it doesn't matter that your level is low, this is not an excuse to be in your native language shell. Break this shell and speak English, this is the golden opportunity. I am sure that when you get back to your country you will not speak English so don't miss these moments.
Reading is the answer to all this matter, but not just reading with eyes, no, it doesn't work like this. Listen dear student, you have to read out loud, in this way you will hear your voice, therefore, your listening will improve you will see the words, thereby enabling you to memorise them and use them in your writing.
Unfortunately, it's like a vicious circle.
According to Mr. Dion, the mainspring for speaking are friends. You should go out with friends with whom you have similar interests, while you're speaking don't suddenly stop and start thinking and looking for specific words, because you are not going to get it. Forget about it and keep talking, use simple language, and have fun speaking English. In conclusion, it's all a matter of time, make a plan whereby you can manage your time table.
YOUSSIF SY SALEM from Libya
Comments
comments