Autumn is here but the weather is still hot here in Malta so make the most of it and join some of our outdoor activities. here is the social programme: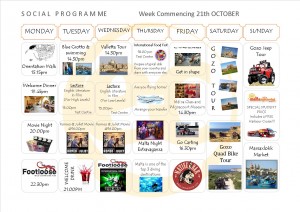 Also note next week's special activities:
Tuesday and Wednesday Afternoon: Lecture on English Literature in Film followed by a Movie 'Romeo & Juliet'
And finally on Thursday the famous International Food Festival!
All students (and staff) are encouraged to prepare a traditional dish and bring it to the test centre where you can try different dishes from countries all over the world! Yummy 🙂
Feel free to come to the EC Reception to ask questions and to book!
Comments
comments