Last Sunday, 23rd February, Vodafone Malta hosted the most popular event of the year. The annual Marathon attracts 3,600 participants and this year an EC Malta student was one of the participants!
Francimara Xavier, a Brazilian, came to Malta to study in an Intensive English course  for one month and surprisingly found out about the marathon while she staying here. She participated in the Half Marathon (21 kilometers), which started from Mdina, at 9:20am and ended at the Sliema Ferries, the Finish Line.
During a lively chat, Fran (how she likes to be called) told us a little bit about her experience, goal and how was the preparations for the marathon! She completed the route and was glad to have achieved her main goal.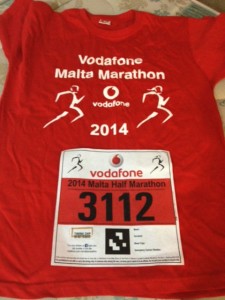 How long have you been running? Why did you start?
I started running approximately four years ago. There are many reasons why I choose to run. Firstly, it's practical, I can run anywhere and also it is cheaper than most other activities. Secondly, I really enjoy it. When I first started, I used to run alone but now I form part of a group and we usually run together, but of course each one of us has a different rhythm and we respect that.
Have you participated in a marathon before?
No, this was my first time. In Brazil I've participated three times in the "International Race around the Pampulha" in Minas Gerais. It is a popular race in Brazil but it is only 18 kilometers, while a half marathon is 21 kilometers and a complete one is 42 kilometers.
So, why did you decide to participate here in Malta?
It was a complete coincidence! I came to Malta to live abroad and study English, I didn't know about the marathon. I discovered it when I was researching about marathons around the world, since the group that I am part in Brazil is going to Chile to be part of a race and I couldn't go because I am here. It was an amazing surprise to find this race in Malta while I am here, especially because I am only staying for one month. It is fantastic and it really completed my holidays in Malta.
What is the difference between running in Brazil and in Malta?
Well, it is completely different. Actually, running here is very challenging for me especially because of the weather. For example it is very difficult to run against the wind, on the other hand, sometimes it is also complicated running downwind. In Brazil it is also very warm so I suffer a lot with the cold weather here. However, I think that the tiredness is the same.
What did you expect to gain being part of a marathon?
I set some goals for this year and to be part of a marathon is one of them. It gives me great personal satisfaction and I am glad to be able to realize it. What's more it is a very health activity.
How often do you train per week? What was the longest you have run so far?
Usually I run about 4 days per week, with a variation of 8 to 15 kilometers, especially if I run in consecutive days. It is important to give time for the muscles to rest and it is also necessary to compliment running with some extra activity in order to strengthen the muscles.
The longest route I ever ran was 18 kilometers in the "International Race around Pampulha" and now I will try to run 21 kilometers in this half marathon.
How did you get ready for the Marathon?
Besides training daily, it is extremely important to have a healthy diet. In preparation for this marathon I was eating a lot of proteins and in the day before I had base my food intake on carbohydrates. During the race I had an energy replenisher, which is a combination of carbohydrate and protein.
What was your goal for this Marathon? Did you achieve it?
I was not competing to win, as I said it was my first time. My main goal was complete the route since it is one of the goals that I would like to achieve in 2014 and fortunately I did it. I am so glad for that.
Congratulations on succeeding your goals!
Comments
comments