"Of course I would recommend EC Malta. It's a wonderful chance to learn English! There are a lot of professionally qualified teachers who can explain you grammar, meaning of new words etc, in spite of the fact that you didn't speak English sooner. English surrounds you all the time and you start thinking in English.
I know that EC has got schools worldwide but Malta is an amazing country with very rich history and culture. There are a lot of beautiful places. English is a state language here. And EC school is a first English school here. When I was going to learn English I didn't hesitate that it will be EC Malta.
The school organizes your studying and accommodation and does your life here more comfortable and positive. The EC team is ready to help with any problems. EC also offers many tours and activities for students.
I've studied here for 4 weeks. My first level was Pre-Intermediate. It was difficult for me at first but very interesting. Thanks to my teachers Miriam Grima and Dorothy Cutie I started to speak and to understand grammar quickly. Every day they gave new information, rules and then we practiced these together. They also gave homework every day. As a result, I went up and I'm studying in low-intermediate now.
I like walking and travelling very much. Sometimes I go to the beach or the Maltese cities with my friends. There are also many night clubs and cafes.
Welcome Dinner was very interesting for me. I would also like to take a Scuba Diving session. And I'm going to visit Gozo with EC.
I have these recommendations for future EC students:
Try to speak only English;
Use an English dictionary;
Listen to your teachers;
Have a good time and GOOD LUCK!"
(Elena Garianova, 28 years, from Russia – General English Course)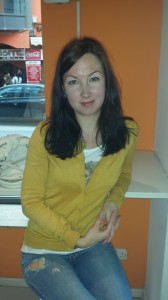 Comments
comments