The sun has constantly appeared in Malta and the weather is definitely getting better. So, these were enough reasons for students to enjoy a lovely sunny day in Blue Grotto. Yesterday, 08th April, a group of 25 EC Malta students went to explore this amazing place!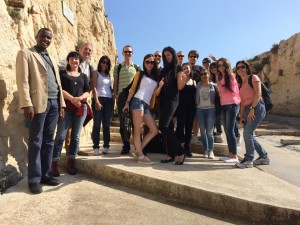 Blue Grotto is one of the most known tourist destinations in Malta, located on the south coast of the island. There are many reasons for this popularity. Cliffs, coral caves and beautiful crystal blue sea, reflecting the colourful sea bed and coral. The most amazing moment is when the sunlight reflects on the water and displays various shades of blue, it is a real spectacle. Get you camera ready to take breath-taking pictures!
Every Tuesday the tour is held from EC Malta – sometimes it depends only on the weather – costing only €17. The price includes transport, boat to get around Blue Grotto and a Social Leader. The meeting point is in front of school, at 2:30pm.
Do not miss the chance to discover this amazing natural spot while you stay in Malta! For further information contact the reception.
"It was a very and different experience! I have been in many islands before but anyone was like this. The water's colour is so blue. The combination with the mountains and the different shapes of rocks makes amazing scenery! Due to these reasons, I would recommend the tour to my friends!" (Alan Esch, from Brazil – General English Course)
"I think is a great place. The water is beautiful! The boat trip was nice, I would recommend to my friends too." (Natalija Povlovic, from Switzerland – General English Course)
EC offers many different English Courses in Malta, including TOEFL and IELTS.
Comments
comments