From Friday (25th April) to Wednesday (30th April) Malta will hold another amazing International Fireworks Festival, taking place in 3 different locations in the Island: Valletta, Bugibba and Marsaxlokk (Photo). The spectacular event is completely free of charge, so everyone is invited to go!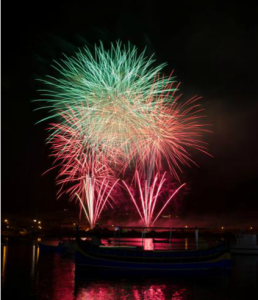 This year marks the 13th edition of this brilliant competition in Malta. Maltese companies as well as foreign companies take part in the competitive event. The pyrotechnic displays are also synchronized to music, making a perfect spectacle! The event is organized by the Ministry for Tourism and Malta Tourism Authority.
In Valletta, the event takes place at the Grand Harbour, providing amazing scenery. For the "Grand Finale", on Wednesday (30th) make sure that you find a place at Ta' Liesse / Barriera Wharf (Valletta) which are the best places for viewing the show.
Besides being a competitive event, the occasion also celebrates Malta's accession into the European Union, which took place on 01st May 2004.
For further information contact:
Phone: 356 22975440-2, 23696073/4
Website: www.maltafireeworksfestival.com
Photo: From Malta Fireworks Festival's website
===
EC offers many different English Courses in Malta, including TOEFL and IELTS.
Comments
comments