During your stay Learning  English in Malta you will be in contact with our Social Leaders. So, following up on our posts to present to, the EC Malta Social Leaders this summer, the next one is about Alain, who is from Switzerland. Alain, who is just 23 years old, has a lot of experience with working as a Social Leader, since he has been part of our team for the past few summers!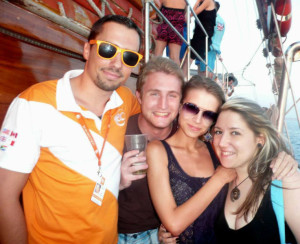 For Alain responsibility and confidence are the key words to perform in this job. In addition, he sees this work as a great opportunity to improve his English and meet new people. Do you want to know more about Alain? You can find out a little bit more about him, such as what he thinks about the job and his favourite spots in Malta, below.
Is this your first time working at EC Malta?
No, I've already worked as a Social Leader at EC Malta in the past.
Why did you decide to apply this job?
First of all, this job fits perfectly with my schedule of studying. Secondly, the job makes it possible for me to improve my English during work hours and get more confident in speaking English. Last but not least, by doing this job I have the opportunity to meet a lot of nice people from different parts of the world.
How would you describe yourself?
I'm a very easy-going person, who is always full of energy. I fancy doing activities with friends and especially going out in the evenings to party. I enjoy taking on new challenging tasks every day and therefore I like to travel around and explore the world. Besides traveling, my biggest hobby is practicing sports.
In your opinion, what is the most attractive thing about this position?
As I've already mentioned, working as Social Leader allows you get in touch with a lot of different people at different ages, different nationalities and also different cultures. In the past years in Malta I have made a lot of good friends from all over the world, who I am still in contact with. Some of them even visited me when I was in Switzerland and I also visited them in their country.
However, we shouldn't forget about the fact, that working for EC Malta also gives you the chance to practise your English.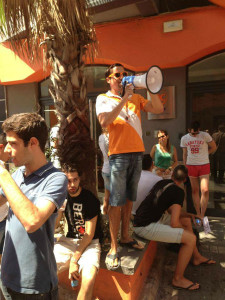 How would you describe your function as Social Leader?
In my opinion, the most important part of the job is to interact with the students – everywhere and, at all times! It starts in the morning at school by talking with the students during break followed by doing activities with them in the afternoon or joining them at the EC Beach club.
Also at night we keep the students company by joining them in experiencing Paceville's nightlife. Not only we do help students solve their problems and make them feel welcome but we also we help them to improve their English outside the classroom.
What characteristics does a leader have to possess?
Basically, a leader has to be confident in speaking. It is vital for leaders to be confident in using their English not only face-to-face but also in front of a big group of people.
Another important thing is that you must know how to communicate with different kinds of people. Every student is different depending on age and nationality. Therefore it is important to understand how to deal with different types of students. It is important that you figure out and understand where the students are coming from.
Being a social leader is not only about having fun, in fact, there are quite a lot of tasks and responsibilities that one must take on as part of the job.
As a leader, what advice would you give to students?
My best advice is to interact with as many foreign students and people as possible. Interacting with foreign people will not only help you to improve your English but you will also have more fun learning about new cultures and making new friends.
Besides St. Julians and Paceville, I recommend students visit other parts of Malta such as Gozo, Comino or Mdina and to join activities like the trip to Blue Grotto or the popular Boat Party during their first week. Also they should consider visiting one of the sandy beaches over the weekend.
Last but not least: Be sure to enjoy every single second of your adventure in Malta 😉
Quick Questions about Malta
Remarkable Song: LMFAO – Party Rock Anthem, Don Omar – Danza Kuduro and Robin Thicke – Blurred Lines
Best restaurant: Bad Ass Burger
Favourite Food: Pastizz (with Ricotta)
Place to relax: Comino
Most beautiful spot: Azure Window (Gozo)
Favourite Beach: Golden Beach
Why Malta? Perfect location to practice English and enjoy your holiday at the same time
EC offers many different English Courses in Malta, including the Academic Year Program
Information about other Social Leaders coming soon!
Keep your eyes on our Blog!
Comments
comments