As a person who has never thought about "theatre" logically, everything Lizzie talked about was fascinating and renewed my ideas about theatre.
As Lizzie briefly mentioned, we can recognize between the theatre and the lecture or even everyday life. For instance, in both situations, there are people who sit down and concentrate on listening, someone who talks by using not only their verbal communication but also body language or some devices. Generally speaking, I think that theatre is a place in which actors attract audiences, which contributes to performing well in daily life as well.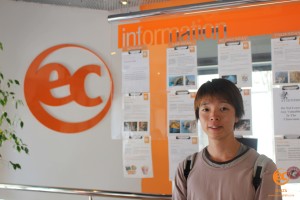 In fact, Lizzie's way to lecture really fascinated me precisely because I think she always practices to be a good actress, which helps her to perform well not only in a theatre but also in a lecture and class.
The second point I would like to talk about is there have been many great people who have created new concepts of theatre and advanced theatre day by day. I sometimes go to the theatre and enjoy it. However, I have never thought on what basis this performance is based or which principles that actress has.
Moreover, when I go to a theatre, I theatre watch the performance in a rambling way. If it look at the ingredients which compose theatre such as "verbal", "music", and "costume", the view I see through my eyes could be different.
Therefore, today's lecture actually broadened my horizons. It allows me to watch a performance in theatre from a different viewpoint.
By Masashi Yamazaki, from Japan
Study English in Malta with EC English Language Centres!
Comments
comments