The ball is already on the field and the supporters are prepared to kick off the most anticipated international event!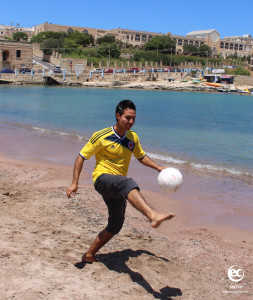 Today marks the start of the World Cup in Brazil and EC Malta will definitely be joining on the celebration! Throughout last week, in collaboration with students and staff we prepared an amazing video which shows EC's passion for football in an extraordinary international setting!
When students come to study English in Malta, EC try to guarantee that they are involved in a fun and animated atmosphere, which helps contribute to their #ecexperience on this lovely island. The environment created is an important factor for students to meet other students and have the opportunity to share their experiences and most important to improve their English!
Check out our behind the scenes photos below and Click Here to watch the EC World Cup video.
Find out more about EC's English Courses in Malta!
Comments
comments