Have you ever noticed that when students say 'this is a fantastic school' they never quite mean the school as a building? That's simply on account of the fact that, to them, the idea of school merely represents the people who work there and not the actual physical space.
Granted, a school equipped with the latest technology is highly likely to lead to better results. Not only do these innovations make lessons more fun and encourage students to take a more active role throughout the lessons, but they also allow teachers to keep abreast of new methodologies. As a matter of fact, EC Malta Language School has always been adamant about making use of the most modern technologies in the classroom, and that is exactly why it has invested heavily in equipment which make it incredibly avant-garde when compared to other schools.
Having said that, for a school not to be your usual run-of-the-mill, it must undoubtedly pay attention to the teachers it employs. These people are the ones who spend most time with students… Again, this is where EC has managed to truly outshine the competition. Yes, being a professional teacher is at the very basis. But that's simply the starting point when EC seeks to employ people.
The teachers at EC Malta have to have that something extra if they want to qualify. They need to be willing to go the extra mile to achieve a better-than-good result – EC is no place for someone who is contented with mere mediocrity. It is, in effect, ever so refreshing when even the students realise that their teachers do their job because they are really fond of it and not because they are obliged to …this becomes apparent when going through the students' feedback.
Yes, EC Malta  is certainly among the biggest schools around, but one feature it has never lost since it first started being operative is that of its staff being a close family unit. This makes for a marvellous  healthy working environment, which finally really and truly benefits the students.
So is the school to be judged by the quality of its teachers and administrative staff? Well, partially, yes. But that's not all. A school is made up of the staff AND (and that's a big, big 'and') its students body. EC Malta believes that happy students are indicative of a properly functioning school… students obtaining great results, important certificates, more confidence and becoming more aware of diverse cultural features is another side to what EC Malta will help you experience.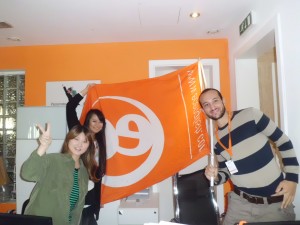 Comments
comments