In December 2004, our school held its first annual Charity Bake Sale & Raffle. Teachers and staff members united with great enthusiasm and team spirit and baked for a cause! The cause has always been local charities. Every year since then, we have held our annual bake sale. This past December, we chose the Shreiner's Hospital for Children. At the beginning, we knew very little about what they did. After researching them a little more, we were happy to bake and raise funds to benefit them. We wanted to get our students involved in the fundraising and they raised up to the occasion! One class, in particular, had the genius idea of selling raffle tickets to the rest of the students and employees. The winner of the raffle would receive 30% of the amount raised and the charity would receive the remaining 70%. This clever idea worked! This class alone raised over $200!!
We contacted our local suppliers, including Solly the Caterer, Espresso Hotel, Staples, Hotel L'appartement and Atti Restaurant, for support. They were more than generous in donating baked goods, cooked food, gift certificates and other products for our raffle. With these donations along with all the baking and contributions from our team, we put together successful selling stations!!
We also invited local businesses to attend our event! Within no time at all, we were almost sold out of goodies!! In total we raised $855 for the Shreiner's Hospital for Children.
Recently, the Shreiner's Hospital contacted us to formally thank us for our contribution and extended an invitation to visit the hospital for a tour. We were honored and touched by this gesture. This past Friday, our Administrative team visited the recipients of our fundraising efforts! We were warmly greeted by the Shreiner's team. They had a gigantic cheque ready for us to present to them. They then took us on a tour of the facilities. We were so impressed by the wonderful work they do. They have a team of dedicated researchers, doctors, teachers and technicians whose purpose is to ensure the children and their families receive the best medical and social care possible! Due to our school's business hours, we could only visit them after 4 p.m. This didn't discourage them from accommodating us. We are positive they stayed past their work day to ensure we were given a thorough tour and presentation.
We were all so inspired by the work they do, that we are committed to raising funds for them again!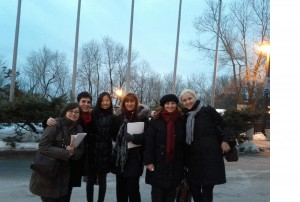 Comments
comments