What amazing families we have at EC Montreal.  As soon as we sent out the message for the event "giving back to our community" we got an overwhelming response.  We received quite a few emails saying Fred must have been an amazing person.  They wished the family that Fred has left behind strength to go on in his memory.
One homestay family that really touched us was Margotella Bussiere.  Margo has been hosting for us for a couple of years but has definitely made an impression.  Margo has a very busy lifestyle, she is an artist.  We always post her next show on our student's bulletin board.  Despite her busy schedule Margo loves to host.  She loves to learn about different cultures and includes students in all her functions.  Whenever we have a function at school Margot is always present with her beautiful smile and personality.
When Margo received our email she immediately contacted us to say she will be there to support us in this worthy cause.  Her son Mark Lawrence plays the guitar.  Margo volunteered to bring her son along to give ambiance to our good deed.
Yes, EC Montreal has amazing homestay families.  We are very proud of each and every one of them. Please feel free to google Margot and her son.  Margot has amazing art work.  Here is a small sample below.  You can see Margot in her home, the pictures are Margot's work of art.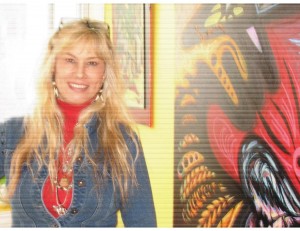 Comments
comments