Hundreds of Christian Orthodox faithful Greek-Canadians marched to Koimisis Tis Theotokou Greek Orthodox Church in Park Extension,  Montreal,  to celebrate the greatest feast of Virgin Mary during the vesper service on August 14, the day before the holiday.
His Eminence Ignatios Metropolitan of Arta officiated the service.  Three Archbishops attended the episcopal vesper service, including all Greek-Orthodox priests in Montreal. A large crowd participated in the Litany of the icon of Virgin Mary in a solemn atmosphere as the Greeks of Montreal celebrated the Assumption Day (Koimisis tis Theotokou) in unity.
Metropolitan Ignatios said he was amazed by the response of Greek-Canadians and expressed his joy that Greeks of Diaspora preserve their religious traditions despite so far away from their homeland.
After the vesper service there was a traditional celebration around the Koimisis tis Theotokou church.  The celebrations will continue till Sunday, August 19 which consist of dancing, singing, Greek food and sweets, games and lots of Greek souvenirs.
For our students that are studying abroad one advantage of studying in a multi-cultural city is that they can experience the beauty of different cultures; even their own.
Below is a picture of the Greek Orthodox Church; Koimisis Tis Theotokou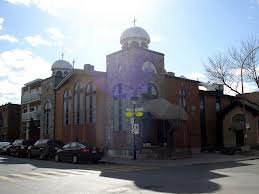 Comments
comments