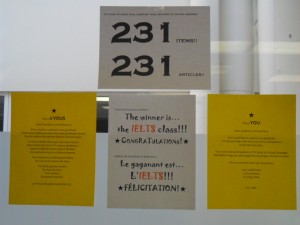 Every year, around this time we start the preparations for our charity work. Last year we had our 8th annual Christmas bake sale to the benefit of the Montreal Shriner's Hospital for Children and we also filled up lots of boxes for the CTV's Spirit of Giving Campaign. We actually had a class competition going on and the winning class was out Higher Score IELTS class, teacher Mary, followed closely by teacher Djamel's French class.
Mary's class was the winning class also because she had told the students that she would match the total number of unperishable food items! And she did it, thus conveying  a very important message to her students: even the smallest contribution makes a huge difference, and when we are all working towards the same goal the results are amazing. She already told us that she will involve her English intermediate class as much as possible so that  we can beat last year's record in terms of full boxes of food and toys and money raised.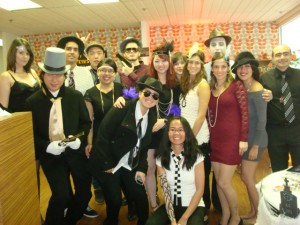 Our 2011 Charity bake sale raised a total of $855.00. This year's Bake Sale, which will be held on the 14th of December, has to beat the 2011 one! And it loooks like it will because it will be a whole day event: breakfast, yummy treats and lunch in our EC MOntreal student lounge, all homemade products!
Thank you Mary, Djamel and thank you to all the other teachers that will make this year's   Holidays Charity fundraising a success for the school! Good luck in this year's classes competition And thank yoou for teaching students from all 4 corners of the earth, that giving feels good!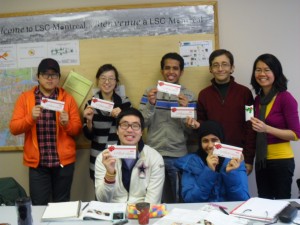 Comments
comments