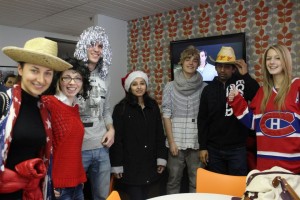 The Harlem Shake has gone viral!  It is all over Youtube!  Everyone is doing it – including CNN and other large organizations!  It is hard to understand why this crazy dance became such an internet sensation.  Perhaps it is because it is short, quick and can be completely spontaneous and unchoreographed, unlike flash mobs that require a lot of training, practicing and coordination.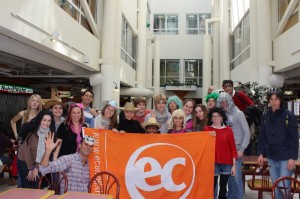 EC Malta was the first of the EC schools to jump on the bandwagon with their Harlem Shake.  It was funny and showed that EC is current with pop culture and the latest media crazes!  EC Miami was next to put on a show.  One EC school after another were putting together their version of the Harlem Shake.
Our Activity Director, Emmanuel, kept insisting that EC Montreal had to do their own Harlem Shake!  We talked about it but didn't really make any plans.
Today, out of the blue, Emmanuel showed up to school with a huge sack of costumes and had informed us that today was the day!  ok – here was the test, unchoreographed, unplanned, spontaneous!  ok – we were all in!!  Emmanuel went to all the classrooms and told everyone we were meeting in the student lounge.  He handed out costumes and that was it!  He downloaded the Harlem Shake app on his I-phone and it basically it did the work for us!
We had a blast!!  It was so much fun dancing around the food court at the school like we were crazy people!!  We laughed and laughed!  It was a perfect way to end the week and to kick off the weekend!!
EC Montreal has now joined this internet sensation and we couldn't be happier about it!
Comments
comments