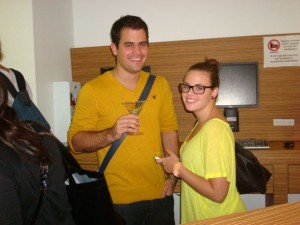 EC Montrealers will have an opportunity to paint the town yellow during the inaugural edition of Yelloweek, six days of celebrating food, fashion and art!  When people think of Montreal that's what comes to mind – FOOD, FASHION AND ART!!
Maison Veuve Clicquot, the historic French Champagne producer, has chosen Montreal as the site of its first such event, which will, of course, involve Champagne. Billed as a Tribute to Creativity, Yelloweek's events — spanning Tuesday to May 19 — will focus attention on Montreal companies involved in the arts, food and fashion. The name of the event is derived from the iconic dark yellow label on bottles of Veuve Clicquot Ponsardin Champagne.
"Veuve Clicquot holds different events in various cities that they feel represent their brand, and they've chosen Montreal for Yelloweek because it's a way to support a city they think is one of their key cities," says spokeswoman Leisa Lee, adding the company is test-driving the Yelloweek concept right here in Montreal!!
The week will kick off with a fashion show. Yellow Fashion — which will feature the work of up-and-coming Montreal designers Helmer, VFranz, Elisa C-Rossow and Natalia Baquero — will take place at Birks, 1240 Phillips Square, on Tuesday from 6 to 8 p.m. Hosted by fashion writer Lolitta Dandoy, the event will also feature hors d'oeuvres by Birks Café chef Jerôme Ferrer in addition to Veuve Clicquot Champagne. Tickets are $65.
Yellow Art will embrace the richness of the city's art scene with a Champagne launch of works at Galerie 203 in the Old Port by nine up-and-coming and established Montreal artists: Suzanne Colello, Peter Farmer, Nathan Gilbert, Arcade Latour, Lorne Miller, Jihane Mossalim, Tiffany Pilon, Mimmo Scali and Toro Del Mar Sosa. Each will display works inspired by the distinctive Veuve Clicquot yellow. Tickets are $20.
Yellow Picnic will celebrate the imminent arrival of summer with the opening of the terrace at New City Gas in Griffintown.
The week will wrap up with Yellow Night parties on Friday at Buonanotte and May 19 at Flyjin in Old Montreal.
Throughout the week, 20 Montreal restaurants will offer a complimentary glass of Veuve Clicquot with the purchase of one. And, through Yellow Contest, Montrealers will have an opportunity to win a yellow Veuve Clicquot bicycle by completing a ballot in one of four participating SAQ outlets.
EC Montreal will be adding these outings to our schedule of social events!  More great reasons to study ESL abroad at EC Montreal!
For details and tickets, you may visit the Yelloweek website: semaineyelloweek.com.
Comments
comments