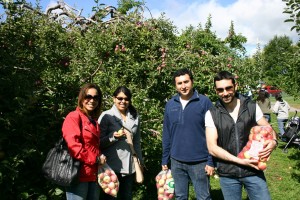 Wednesday, June 5 is World Environment Day!  All EC Centres will be doing something special on that day to show how much we care about our planet!  It is also important for our students to see how committed EC is to environmental initiatives and getting involved within their new community.
EC Montreal had decided to get all the teachers involved and combine our initiative with a writing exercise.  All the students will write down on a leaf, flower or butterfly, what they plan to do for the next 24 hours for the environment.  They will write their messages in class in either English or French.  All the classrooms will then go into the student lounge to place their hand written message on our trees.  We will be creating an urban forest with hundreds of messages of environmental commitments!!  We hope this gesture will open our students' eyes and they will continue to carry out their promises as part of a lifestyle change!
We will also be showing a movie called "Plastic Planet" that deals with environmental issues.  The movie was written by Werner Boote.  He presents an up-close and personal view of the controversial and fascinating material that has found its way into every facet of our daily lives: plastic. He takes us on a journey around the globe, showing that plastics have become a threat for both environment and human health.
A slide show of environmental facts will also be playing all day in the student lounge to help educate our EC Montreal community.
On June 5 we hope to tell the world that EC Montreal cares about the planet and we are committed to making a difference!
Comments
comments