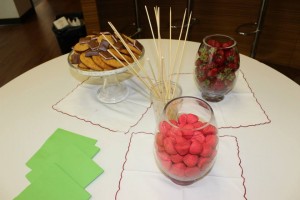 EC Montreal held it's 2nd annual Strawberry Festival today!  The operations team worked hard all morning setting the stage for a fabulous event!  We set up tables and tables filled with Quebec strawberries fresh from the farm and other strawberry goods; smoothies, cookies, cakes, candies and chocolates.  The main attraction was the chocolate fountain in the center of the room where students could dip sweet strawberries and marshmallows!   The student lounge looked absolutely wonderful and smelled even better!  We couldn't wait for the 10:40 a.m. bell to ring to see the look on our student's faces when they saw what was waiting for them.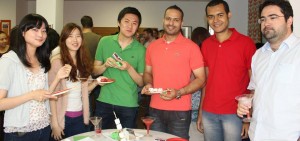 The students arrived and we could see them smiling from ear to ear!  We took so much pleasure in serving our students and watching them enjoy the sweet taste of Quebec's seasonal fruit while mingling and getting to know each other!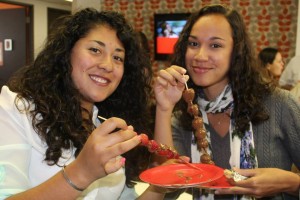 We love giving our students a taste of Montreal and surprising them in this special way!
Life sure is sweet at EC Montreal!
Comments
comments